Direct Transmission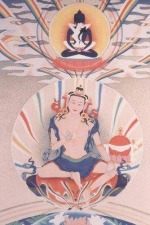 The transmission of knowledge from master to disciple can be oral, symbolic or direct. The uniqueness of the Dzogchen teaching is the direct transmission or "direct introduction" in which the master and the student find themselves in the primordial state at the same moment through one of the experiences related to body, voice or mind. Due to the power of the transmission, the students are able to discover their own real condition in this way.
In addition to his extensive world-wide retreats, Chögyal Namkhai Norbu offers direct transmission three times a year, on the anniversaries of Garab Dorje, Guru Padmasambhava, and Adzom Drugpa. In order to make it possible for people who cannot attend a retreat or come to a direct introduction in person, these direct transmissions are offered by live webcast at local Gars and Lings world-wide.
If you are interested in receiving direct transmission via the webcast, contact your local Gar or Ling in advance of the three anniversary dates and ask if they are organizing any introductory classes beforehand. Also, often the Gars and Lings have live video broadcasts of the transmission explanations. Otherwise, you can also use our webcast system, which is open to all on these dates. The direct transmissions take place in August, November, and March exact dates vary since they are based on the Tibetan lunar calendar.